Heli Rafting - The Ultimate Adventure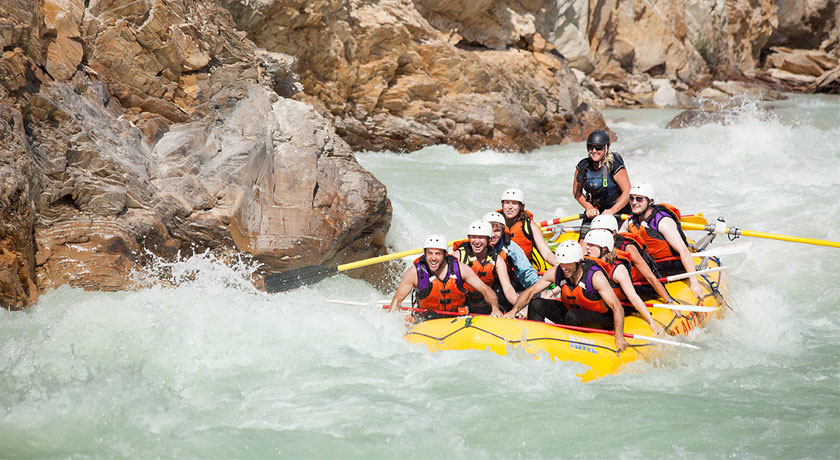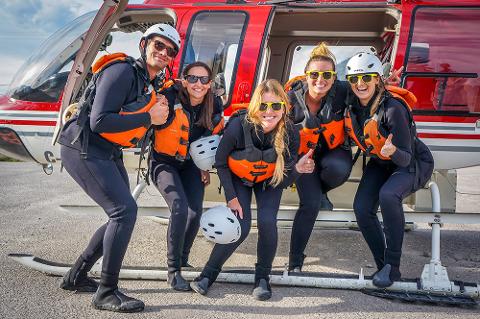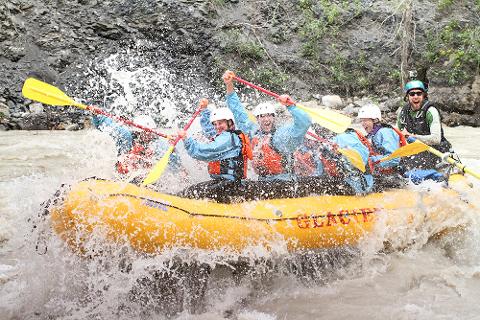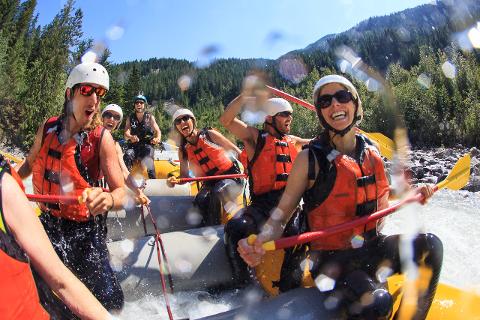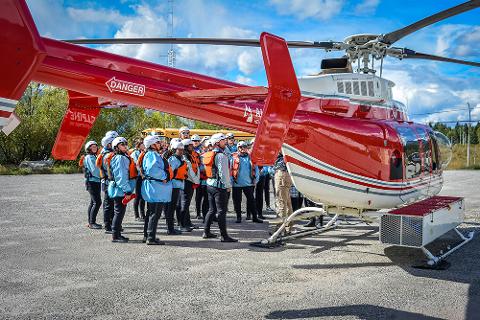 Duration: 8 Hours (approx.)
Location: Golden, BC
Product code: UA
Take a minute to dream about your ideal day of rafting.
There might be huge rapids and waterfalls, beautiful scenery and your closest group of friends. A hot lunch, a river swim, a wetsuit that makes you feel like a superhero and a free beer at the end.
You're there and it's perfect… but wait...
Just when you think this day can't get any better, you're getting into a helicopter. And that helicopter is flying you to the biggest whitewater on the river!
This isn't a dream – it's our Ultimate Adventure Heli Rafting trip.
The Ultimate Adventure is the most complete rafting experience on the Kicking Horse River, and it's exclusive to Glacier Raft Company.
The famous lower canyon is known for it's 4 km stretch of continuous class 4 whitewater, and it's huge vertical rock walls (this just keeps getting better and better, doesn't it) and the only way to access it is by helicopter.
If you want this dream to be your reality be sure to book soon. Space is limited to only 32 people per day.
p.s. Everything we mentioned in your dream is in fact part of the Ultimate Adventure… except the friends part. That's up to you.
Policies
* The Kicking Horse lower canyon can only be run at specific water levels, and it will be closed at certain times throughout the summer when the water becomes too high for us to safely run it. June and early July tend to be when we see the highest water of the summer (hence heli rafting starts mid July). When this occurs, we run the middle canyon whitewater section twice. Not to worry though – at high water, the middle canyon is as good as it gets!
* If we can't raft the lower canyon due to high water you WILL STILL be flying in the helicopter. The heli will fly you back up the canyon to raft the second lap of the middle. The flying time is the same for both trips. If you book a heli trip you are confirming your seat in the helicopter regardless of whether you're rafting the lower canyon, or middle canyon twice. Even through there is road access to the middle canyon, you cannot downgrade your trip day of, as your seat(s) in the heli will already be confirmed. Please be aware that if other guests upgrade their trip on the day to add on a second lap of the middle canyon, they will have the option to drive back up with our bus. If you've booked a heli trip you will be flying - you DO NOT have the option downgrade your trip to ride the bus.
*If you have to cancel your trip, the full amount is refundable (less a $10.00 per person processing fee) provided we are given at least 30 days notice prior to your trip. If notice occurs within 30 days of the trip the $100.00 per person deposit becomes non-refundable, and within 21 days of the trip the full amount is non-refundable.
*We need a minimum number of people for all heli trips. If those numbers are not met we will not be able to book the helicopter. If minimum numbers are not met you will not be charged for the third leg of your trip, or for the heli flight.
*Advance notice of whether or not we'll be rafting the lower canyon cannot be given, as many factors can change very quickly. The decision to raft the lower canyon is made the morning of the trip when we have the most recent information on water levels, weather etc. Please try to understand that river levels are completely up to Mother Nature and are not something we can control.
*We hold the right to cancel a trip if water levels fluctuate to a level that makes it unsafe for us to raft on the Kicking Horse River. As water levels are completely dependent on Mother Nature, we may not know until the day before, or morning of the trip. This decision would be made entirely based on safety. If we cancel a trip for this reason a full refund will be given.
*We are on Mountain Time - the same time as Calgary and Banff. If you are coming from the west please account for the 1 hour time difference. No refunds will be given for trips missed due to the time zone change.